Effective way to build your Leadership skills
Not sure if Coaching is for you?
Start with an EQ-i 2.0 assessment along with a result interpretation!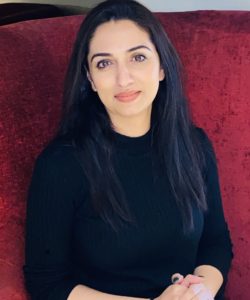 Hamna is a certified Leadership and Executive coach. She works one-on-one with clients at various organizations — from Fortune 500 companies to nonprofits — to help improve their efficiency and realize their true potential.
Her passion is using the power of coaching to define clarity, increase self – awareness and be the confident and emotionally intelligent leader you always wanted to be.  She can also help you become a more strategic planner while attaining your professional and personal goals.
She loves coaching around situational and challenging issues and breaking them down to simplify them to achieve an acceptable action plan. Her experience coaching in the technology industry, banking industry, healthcare industry, and Corporate London, UK will be a bonus for clients.
Hamna received her master's degree in organizational psychology and leadership from Saint Joseph's University, Philadelphia.
She is a Professional Certified Coach (PCC) and a Certified Emotional Intelligence (EQI2.0) coach through the International Coach Federation (ICF) certified coach training. She is a member of the International Coach Federation.
She is the founder of Goldbridge Coaching LLC. and contracts with Maven Clinic, New York, as a professional coach and BetterUp, CA as a leadership and executive coach.
SUBSCRIBE
Inspiration for your personal development
"Uncovering Blocks…"
Hamna really helped me uncover blocks that were getting in the way of me having what I truly wanted in life. Things have drastically shifted in my life since she began coaching me and I'm more aware of root issues and what I can do to address them. I highly recommend her as a coach for personal and career coaching." Beth Hanson, Minneapolis, MN.
"Helped my small startup…"
"If you are looking for a professional Business Coach this is the way to go. Being an owner of a small startup business is challenging, having people like Hamna on your side is a must and she will make a noticeable difference! If you are not sure if this is something your business needs, just give her a call and have a conversation with her, you will see why she is such a great asset." G. Mohammed, Houston, TX.
"Helped me stay focused."
"Hamna is a very compassionate coach who has helped me stay focused and accountable to achieving my goals. Her thought provoking questions have really helped me to uncover doubts that were getting in my way. Through our sessions I have been able to make consistent progress and am so excited to be where I am today! I do not hesitate to recommend her and am confident that you will be thrilled with your results." Robin Christian, Houston, TX
"Put things in perspective."
"Fantastic experience, Hamna really put a lot of things into perspective and made me think and problem solve on a level I didn't know I could reach. Not only was Hamna attentive and genuine, but she really broke down a lot of angles attributed to my successes and shortcomings and how I can repeat or avoid these things, respectively." Eloy Farias, Houston, TX
"Techniques to navigate."
"I had the opportunity to be coached by Hamna, and in the short time we had, she helped me navigate and make great movement in an area that had been stunting me for years. Months later, I still use the techniques uncovered in our session and am very grateful to have been guided by Hamna's true skill and knowledge." Prab Dhanwant, Vancouver, Canada
"Renewed sense of clarity and confidence."
"I had a particularly powerful coaching session with Hamna which enabled me to understand and integrate two conflicting sides of my personality. She skillfully and patiently guided me through the session with thoughtful questions, enabling me to feel a renewed sense of clarity and confidence in myself. Hamna is a gifted coach with a warm, empathetic approach. I highly recommend her to anyone who is seeking more clarity and greater confidence in their life!" Cindy McDonald Geier, Chicago, IL
"Resolved my challenges."
"Hamna is a really great coach to work with. In my sessions she helped me to resolve my challenges and make a plan to move forward. She also helped me gain valuable insight into my life and dreams." Natasha Sealey, San Jose, CA
"Great Experience!"
"Great experience!!! Hamna is really easy to talk to. In my session she helped make a plan to move forward with my challenges. She is so patient and kind I would definitely recommend." Ellie Rodriguez, Houston, TX.
Goldbridge Coaching LLC.
410 West Grand Parkway
Katy 77494
TEL: 267-455-1344
email:
ha***********@go********.llc